Review: A Smoother Summer With St.Ives Scrubs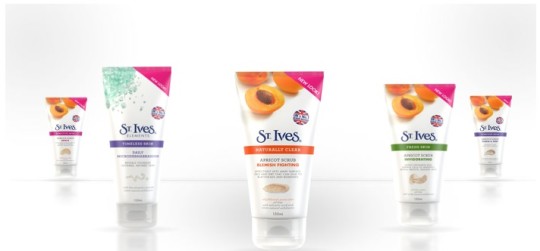 It's definitely that time of year again. Time to pull out the shorts and skirts, freshen up the razor blades, deforest the legs and give your whole body some TLC. I'm up for all that, but I'm not a huge fan of heavy chemicals, so when there's an opportunity to try something a little more 'natural' I'm always happy to give it a go.
St.Ives isn't a new product, but they've recently been rebranded and given a new look. I was sent the Apricot Body Scrub and the Apricot Face Scrub to review, so read on to find out what I thought.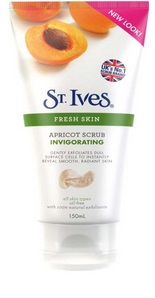 St.Ives Body Scrub is suitable for all skin types. It is made without parabens and phthalates and contains 100% natural extracts. As you can imagine, it is an exfoliant for the whole body. When I opened the lid I was surprised to find there wasn't a cover that had to be peeled off. I quite like that as best intentions aside, they always end up face down on the bathroom floor.
The smell of the Apricot Body Scrub is definitely fruity, though I wouldn't have said 'Yes, that's apricot' if I didn't know. While apricot extract is an ingredient, it's quite low down the list and much higher up is walnut shell powder, which I guess is the rough bit in the scrub.
To apply it you simply rub it in a circular motion on damp skin, before rubbing it off. It is quite rough. If you rub it hard, you'll feel the burn for a while after, but it definitely does what it's meant to. For a test I only did one leg the first time I used it, and apart from feeling the burn for a few hours (maybe I rubbed too hard?) my done leg definitely felt smoother and much shinier. In fact it even looked slightly more tanned, but that could just be because it wasn't covered in dry skin. I very quickly did the other leg too.
The only thing I'm not crazy about is sitting in the bath with the screw top tub, dipping my hands in it. I couldn't avoid water in the pot and it does say not to get the insides wet. I'd have preferred a squirty tube, like the face scrub comes in.
The Face Scrub is much the same story. It is defintely softer on the skin that the body scrub, and is quite smooth on application. I've had about six weeks of really late nights and early mornings, and my skin is definitely showing signs of falling into bed in the early hours without washing or cleaning properly. After the first application, my skin already looked about 50% better - just the simple act of exfoliating the dead skin away, I guess. I was actually quite impressed.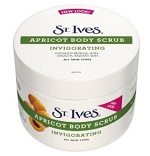 The bottle says to do it three to four times a week, and I'd say that's probably accurate. After a few goes my skin is definitely looking clearer than it was when I wasn't cleansing it (with more than a quick wipe of water) at all.
It's also a lovely smelling product, very fruity. It's oil free and isn't a moisturiser, so you'll need something to counter the effects of hard water if it dries your skin out like it does mine. (The water, not the product.)
Where can I get it? 
At the time of writing St Ives Apricot Body Scrub can be found at Boots* for £5.49 (and currently part of the 3 for 2 offer) or if you shop at Ocado*, you can pick it up for £4.50.
The Apricot Face Scrub is £4.29 at Boots* and is also included in the 3 for 2 offer. Superdrug* seem to have it for £2.66 at 1/3rd off at the moment, which I think is a great price!
The Good
It's not a bad price point, specifically compared to others on the market.
You don't use a huge amount at a time, so it will last a while.
It certainly does what it professes to do. I'm really quite pleased with it. My legs do feel lovely and soft and smooth.
It's easily available at major high streets stores.
The Bad
I am not a fan of the tub for the body scrub, but it does make it easier to store in the bathroom cabinet.
The Verdict
If you want to be summer ready, and have a good looking, glowing and smooth skin - assuming you don't have skin issues that would prevent that normally - it's a lovely product at a great price. It does what it says it will, and it lasts well and smells lovely. There's not a lot to moan about, really! Here's to a fresh and smooth look this summer.