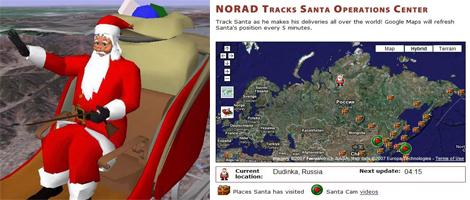 I love this site. It is the best ever. My daughter and I followed it last year and it was so cool to track Santa as he left his grotto in the North Pole and started off around the world. He moves fast, that dude. And he doesn't get closed because of snow either…
So, the site is all about NORAD tracking Santa and you can choose from a bunch of different languages to track him in. While you wait for him to start off from the North Pole, you can visit Santa's Village to see what the elves have been up to as well.
NORAD have been busy this year. They've launched an iGoogle gadget plus a gadget for your mobile phone – so you can track Santa no matter where you are – and you can follow them on Facebook, Twitter and Picasa (?).
On the Kids Countdown page you can watch adorable animations of elves missioning about, see which shops are the busiest in the town, and explore all the different areas in the North Pole village.
Track Santa is enormous fun so go ahead and get yourself some free entertainment while you're stuck indoors.
Thanks to lucerysmum at HUKD!