PlayPennies Exclusive! FREE Sample Of Vosene Nit Shampoo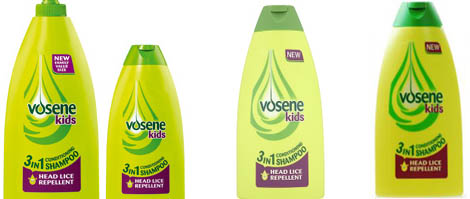 Fancy nabbing a free bottle of Vosene nit shampoo? The first twenty people to nominate themselves in the comment box below will get themselves an awesome free sample. Just write a comment like, "Oooh, me, me, pick me!" below, and if you are in the first twenty , I will get a sample sent straight to you!
The new Vosene 3-in-1 shampoo is designed to keep the nits at bay (thank heavens) with all the natural ingredients that do the job nicely. You've got Tea Tree Oil and Lemon Eucalyptus working their nit repelling magic and a built-in conditioner to keep hair soft and silky.
While it won't take lice away once they're ensconced, it will make hair smell vile to those hideous creatures and make them less likely to settle in for a stay. I am busy using this at the moment and so far we've avoided the most recent outbreak, whereas we did get nits on the first outbreak in September.
So, if you want to nab yourself a free sample of Vosene nit shampoo, quickly write down your details below and, if you are in the first 20, a sample will fly on over to you!