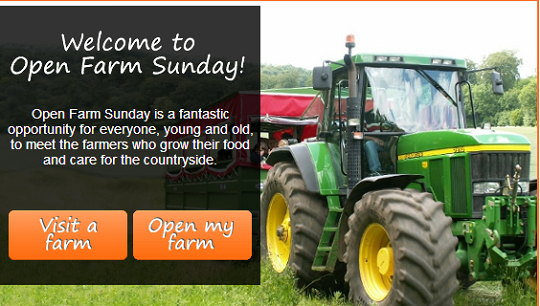 Tamsin mentioned this in her Freebies feature during the week, but we thought it may be worth a mention again. If you're sitting at home today with nothing to do and wishing you'd made plans for the weekend, here's one for your diary for June - pop it in now, and have something planned for the weekend of 8th June! It's Open Farm Sunday across the UK!
Open Farm Sunday gives an opportunity for everyone, young and old, to meet the farmers who grow their food and care for the countryside.
I've arranged with a group of my mum friends - we are all great friends, but because we only really do stuff together Monday to Friday day times, few of us have ever met each other's partners, and the men folk don't know each other at all - so our group are all having a 'family day out', as a group so the men can be involved in some of the field trips we take the kids on too. I think everyone's looking forward to it.
Each participating farm has it's own set of events on, based around the farm's own individual story. The activities during the day could include farm walk, nature trail, tractor and trailer rides, pond dipping, activities for children, a mini farmers market or picnics.