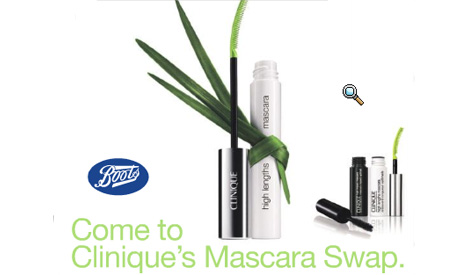 GIRLS! Have you got an old mascara lurking in the bottom of your makeup bag? Have you ever fancied giving Clinique Mascara a bash?
There's no link - you'll need to dig it out, grab your coat (yes, that's right, actually go out into the big wide world) and hot-foot it down to Boots!
Here's the scoop: take your any brand old mascara along to your nearest Boots and head for the Clinique counter, where they'll be waiting to give you a sample size (which are the perfect size for keeping in your handbag!) of one of two of their new mascaras - brill!!
They are opthamologically tested so are ok for contact lens wearers, and there are two for you to choose from:
High Impact - if you want big OVER THE TOP lashes or
High Lengths - if you want super long fluttery lashes.
Now, the offer started today and runs until the 16th November, or whilst stocks last, and you can only choose one.
If you want both then you'll need to enlist the help of a friend who, for some strange reason, doesn't want to play the FREEBIE Clinique Mascara Swap game.
OR...if you've got a few Boots close by then you could swap one in one and one in another (there are two of them within a five mile radius of me, and I live in the back of beyond!).
You don't need to print of any vouchers - just take along your old manky mascara and swap it for a sparkly new handbag sized one!
Happy Mascara Swapping!
Thanks to lucerysmum over at HUKD