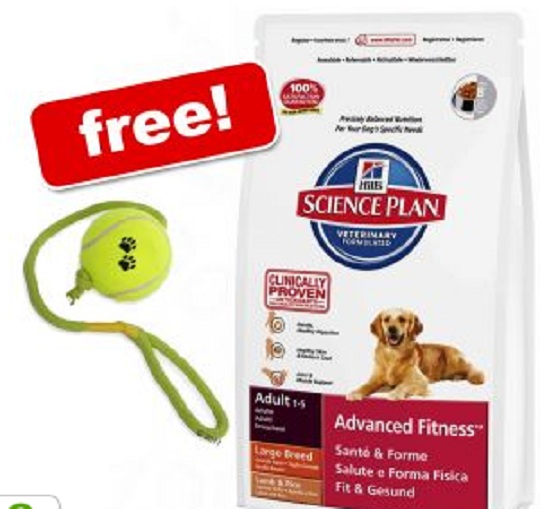 Zooplus is offer a tennis ball on a rope FREE when you buy a large bag of Hill's Science Plan dog food. Plus they're discounting the large bag of Hills dog food from £38.59 to just £36.90. With a variety of flavours to choose from this deal is a must for dog lovers plus you and your best friend will get some exercise and outdoor time.
Hill's Science Plan dog food is of only the best quality. It strictly avoids harmful nutritional excesses and sets high standards in canine nutrition. It contains everything an adult, senior, junior, overweight, or active dog needs. Aside from the many tasty flavours (according to my Labrador), Hill's dry dog food range also offers special diet variants, such as Oral Care and Sensitive Skin.
My vet put me onto Hill's when I go my Lab puppy and since then he's gone from strength to strength. Studies have shown that good nutrition can help stave off canine diseases like hip dysplasia giving your canine family member a longer, healthier life. Talking about a long life – exercise and fitness are vital for your dog (and you!) so this tennis ball on a rope is not only fun, it'll provide you both with hours of exercise and bonding time. It's easy to throw and because of the attached rope you'll be able to avoid contact with the slobbery ball by picking it up by the rope instead! As I have discovered with my Lab, no toy is indestructible so you'll need to supervise your pet with this toy and check the toy regularly for damage to avoid potential injury to your pet.
So get out into the Spring sunshine, breathe the fresh air and spend a bit of time with your best friend this weekend!