Free Personalised Video Message From Santa @ PortableNorthPole.TV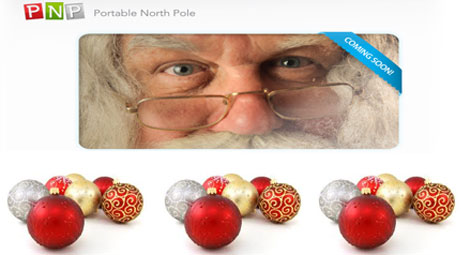 Christmas is just a mere 44 days away! As of NEXT WEEK you'll be able to arrange a free personalised video message from Santa for your child.
Christmas is a magical time for kids, but it can be the extra little bits and pieces that really make Christmasses memorable.
When the Teenagers were very small we sat down one Saturday and wrote a letter to Father Christmas, addressed to him at: The Grotto, Icicle Lane, The North Pole. We then wrapped up warm, walked the mile down the lane to the post box and popped them in.
It killed a good couple of hours and I didn't give it another thought until a couple of weeks later two letters were delivered to the, then, three and four year olds from Father Christmas courtesey of the Royal Mail - I have no idea if they still do this, but the Teenagers still talk about it every Christmas!
My youngest is four and a bit now and is at that age now where Christmas has really come alive - he's VERY excited.
He'll be even more excited when he see he's got a video message from Santa...not quite as excited as me, though, at the thought of seeing his face light up when he watches it!
It's very simple to arrange and it's just BRILLIANT!
Go to Portable North Pole TV and fill in your email address so the Elves can email you when they're ready for us.
Then you just give a few of your child's details, upload a picture and let Santa and his little helpers do the rest.
Comments about last year's messages from Santa, over on HUKD, are testimony to how good this is:
"Did this last year. Absolutely brilliant. Just enter some details about your children along with a photo and you get a personalised video message. You can also send cheeky messages to adults if they have been naughty." - notts6501
"This was great last year. Looking forward to it again" - wookiemummy
"Yeh me too, brought a tear to my eye...my lad loved it!" - lindseyanndavis
"Brilliant! My little one loved this so much, made her Christmas really special. Thanks for the heads up" - amanda f
"Thank you, we did this last year it's amazing." - leilahfun
Do I need to go on...?
I didn't think so.  Pop on over to Portable North Pole TV and leave your email so you can go back next week and arrange your free personalised video message from Santa!
Thanks to notts6501 over at HUKD!