Continuing the Gruffalo theme, I've just discovered a pile of treats and freebies at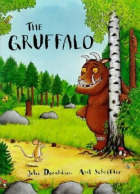 www.gruffalo.com, the official home of the Gruffalo.
There are all sorts of brilliant games and activities, totally free. You can download screensavers for your phone and computer, ringtones, e-cards and even wallpaper for your desktop.
You can enter a competition to win one of ten copies of TODDLE WADDLE by Julia Donaldson and Nick Sharratt by correctly choosing which word describes the way a duck walks. (A is the right answer!)
You can watch of Julia Donaldson and her husband Malcolm singing songs related to her books.

And in the Fan Forum you can chat with other Gruffalo fans or submit your own Gruffalo pictures and paintings to the Gallery.
And if all those freebies aren't enough to keep you entertained, you can also buy all sorts of Gruffalo goodies from the online hop, including birthday cards (£2) bags (£3.99) and my personal favourite, a tin of Gruffalo plasters (£3.95)!