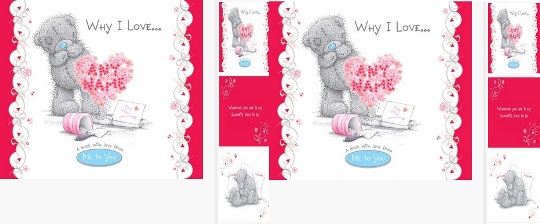 If you are on the lookout for a cute, quirky and quick Valentine's Day present, then this little charmer from Penwizard could do the trick. It costs £9.99 to get one of these Me To You Love Book's made and it is personalised with your partner's name and other such details.
The books usually cost more with their P&P charges but at the moment they have a free delivery code of 405689 which you can enter at the basket. So you can nab more than one if you fancy stocking up on personalised books…
The Me To You Love Book is great for Tatty Teddy fans and would be a really lovely gift for someone whose partner is far away or on business on Valentine's Day. You enter your name and their name as you go and they will appear throughout the book. You will have to order your Valentine's Day book by 09 February though, otherwise it won't be delivered on time.