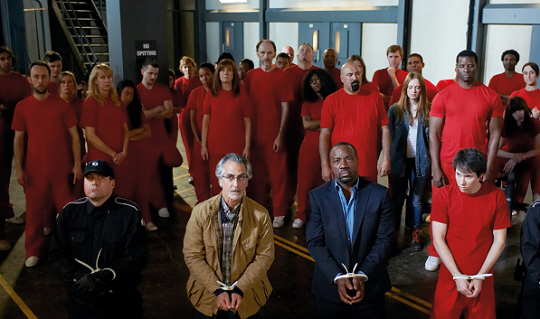 Welcome to TUESDAY! Ok ok, I know it's not as exciting as Friday, but I'm trying. Hey, at least the weather on my side of the country isn't too bad. How's yours? Our first competition is the chance for you to win Alphas Season 2 on DVD courtesy of SFX magazine.
I am not sure if you ever watched this series, but I am huge fan of weird and hinky shows so I really wanted this to be good. Sadly it just never quite came together. I am not sure if it was the terrible acting or the random storylines, but I never got past episode three. Now those of you who DID and who loved it, can win Season 2 to keep forever on DVD.
Alphas may be no more on the tellybox, but it'll live forever on DVD. The complete second (and final) season is available now courtesy of Playback TV, and we have three copies to giveaway. Never heard of Alphas? Here's a handy synopsis:
Discredited by the government after revealing the existence of Alphas in season one, Dr. Lee Rosen must re-assemble his now defunct team to face the growing threat of Alpha extremist Stanton Parish. With the help of tech-genius Skylar and memory recorder Mitchell, Rosen and his team must work together to uncover Parish's chilling plan. But with a mole in their midst, can they overcome the dangers that surround them and stop Parish before it's too late? Answer the question below before 28 March 2014.
Q: Who plays Alphas leader Dr Lee Rosen?
A David Strathairn
Next up is the chance to win one of five Bigshot digital cameras.This is the world's first ever do-it-yourself digital camera that is designed to inspire and educate the amateur photographer of all ages. Not to be confused with Andy Warhol's beloved Polaroid Big Shot camera released in 1971, the similarly inexpensive Bigshot camera from Kimera LLC is a digital camera you can buy and build for the price of a West End theatre ticket.
Rapid Electronics, the UK distributor of the Bigshot camera, has been kind enough to offer five DIY camera kits to give away.
If you would like the chance to get your hands on one all you have to do is answer the question below correctly before 25 April 2014.
Q: Which celebrity photographer is known for being a fan of the Polaroid Big Shot Camera released in 1971?
A: Andy Warhol
Finally how about a week's holiday in France? The Birmingham Mail has teamed up with Les Castels and Aferry.co.uk to win a prize that will see you taking an amazing trip on a ferry, a relaxing drive through the French countryside and a week's stay at Domaine des Ormes. You can cycle, ride, walk, swim and so much more at this gorgeous resort. To enter you need to fill in the online form before Friday 28 March 2014.
GOOD LUCK!
Thanks to pij805 and marba01 and childofvision at HUKD!