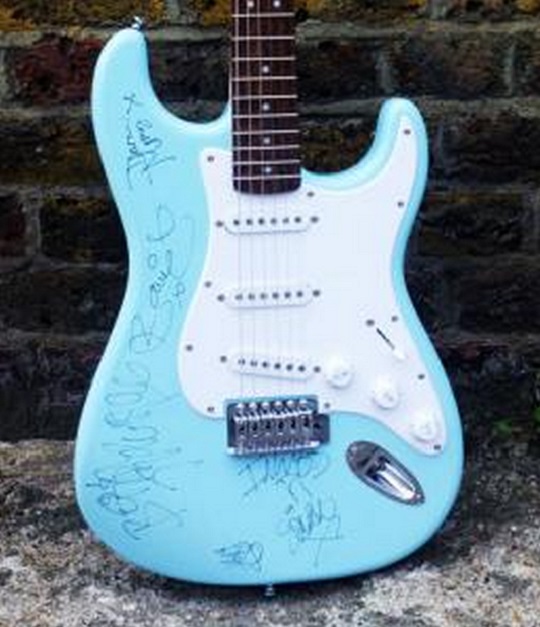 How would you like to kickstart your free competition week by entering a competition to win a guitar signed by the band Primal Scream? Sound good? Well, they are giving away this amazing guitar signed by all the members of the bad and all you need to do is enter your details into the online form on their site.
The competition closes on Friday 12 July 2013 and it looks like a pretty darn awesome guitar to win. I'm not that au fait with guitars myself, but it's blue and cool and signed by a band. Life doesn't get cooler than that really. Enter the comp by clicking on the link and then confirming your email address.
Next up is the awesome prize of a VIP night out at the smash hit musical, Wicked, plus a funky new outfit courtesy of River Island. They have partnered with Wicked to give you the chance to win four tickets to see the show with complementary drinks on arrival at the Apollo Victoria Theatre, plus £100 River Island voucher. To enter you need to tell them which story by Frank L. Baum Wicked re-imagines and the answer is?
A: The Wonderful Wizard of Oz
You need to enter by 5pm on Friday 26 July to be eligible and there are quite a few terms and conditions around the times you can actually see the show, so take a read once you've entered.
Finally you can stand a chance of winning a 3.1 Phillip Lim handbag courtesy of The Observer. The Pashli is made from butter-soft leather and features snazzy zips at the front that expand when opened so you have plenty of room inside. It is worth £740 and to enter you need to fill in your details on the form on the site.  Make sure you enter before midnight on 19 July 2013!
GOOD LUCK!
Thanks to pij805 and Marba01 a HUKD!