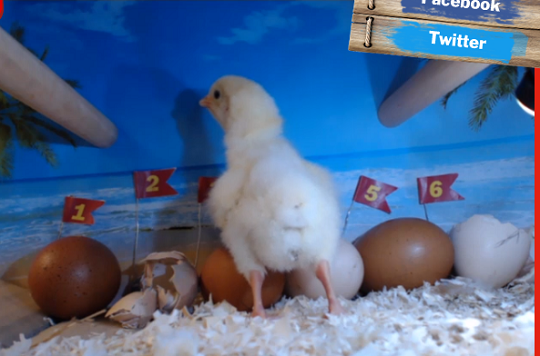 The first competition today is one that I love. Watch eggs live on a webcam and when they crack you have to act fast to win things like discount codes or money off or free holidays. That sort of thing. The competition comes to you courtesy of Jet2*and is running until 5pm on 23 April 2014.
To enter you need to watch the web cam and then you act fast to make the most of the deal. It looks pretty simple and when I clicked on the screen the cutest little chicken was ambling about on the screen. Enjoy!
Is it just me who thinks this is quite cruel? That baby looks pretty distressed. Although it is likely not a real hatching so it is just there for décor. Hmmm.
Next up is the chance to win an Xbox One courtesy of The Guardian. Duracell is celebrating its 50th birthday this year and to mark this milestone they are offering one lucky reader the chance to win a stunning Xbox One console. To enter you just need to fill in your address and details and you could be the lucky owner of this awesome prize. Winnning! It ends at midnight on 26 July 2014.
Finally, we have our very own competition running where you can be one of five people to win a Fisher-Price gym worth £60 and a month's worth of Spatone pregnancy supplement. It's an epic prize and all you need to do is answer the question before next week's end date.
The answer is number 3!
GOOD LUCK!
Thanks to SunshineStacey and marba01 at HUKD!