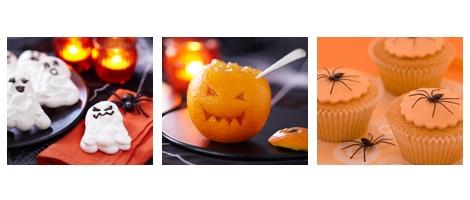 Fancy cooking up a spooky storm this Halloween? Well, Tescos have a bunch of free recipes for you to create and enjoy this coming Sunday 31 October and they really do look fantastically theatrical and delicious.
The free recipes on offer at Tesco include Spooky Bones Biscuits, Meringue Ghosts, Spider Cakes, Pumpkin Soup with Rosemary and Bacon, Witche's Hats, and Orange Jack 'O Lanterns with Jelly. I have eyeballed some of these recipes and, along with being cute, they really do look pretty easy to make.
If you are planning a massive Halloween feast, then why not include these free recipes alongside the free recipes I uncovered from Morrisons last week? You can get a pretty impressive layout using a blend of recipes from each site. And they are all quite easy to do.
So, take a look at Tesco's free Halloween recipes, choose your creepy recipe and get started. Send us pics if you create something utterly brilliant.
Thanks to lucerysmum at HUKD!