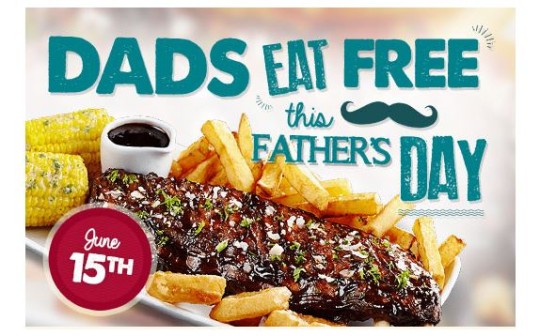 There are a number of restuarant chains getting in on the Dads Go Free action, and offering dads a free meal on Father's Day.  Here are a few for you - we'll add to the list as we see more offers.
Frankie & Benny's are offering dad two free courses from their specials menu on Father's Day. For the rest of the family, their Specials Menu is available all day Sunday - Friday, and is £11.95 for 2 courses, with a top up option for a 3rd course for £2.50. Of course you don't have to eat from that menu. Personally, I love their Garlic Mushroon & Goat's Cheese Calzone.
Bella Italia require a code for your free Father's Day meal. You can apply for your code here, which you'll get immediately. It doesn't say specifically what or how much dad can munch for free, but I guess it's a standard meal.
Chiquito have the same offer, with dads having a free two-course meal with another full paying person so long as the meal comes to over £9.99.