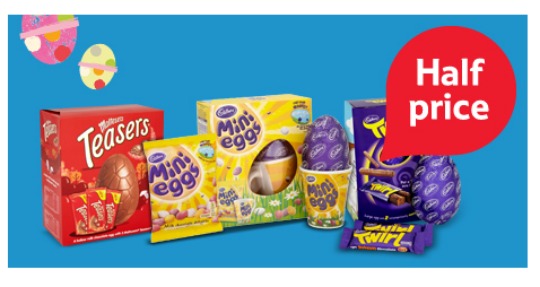 If you didn't stock up on Easter Eggs last week with that fab offer at Tesco then this week they have an equally brilliant offer. For one week only, ending on 17th March selected Large Easter Eggs are half price, down from £3 to £1.50 each. This includes some of the Cadbury's and Mars brands, even the ones with mugs in!
I'll be getting a couple of the Cadbury's Creme Eggs and Mini Eggs ones with the mug, as they are amazing value, and the mugs will come in very handy at home long after the choc has been eaten!
When you click on the link it will show you what is available for delivery where you live, so it will vary by store, with more choices being available in the larger stores.
From what the site is showing me the choices include Twirl, Creme Egg, Maltesers, Oreo, Chocolate Orange, Marvellous Creations, Heroes, Wispa, Celebrations, Quality Street, Roses, Munchies, After Eight, Randoms and Mars Selection.
The offer is on in Tesco Express stores as well, and in my local branch they had several choices with mugs in as well as the regular type of large egg.
The question is, will they last until Easter without being eaten? :)