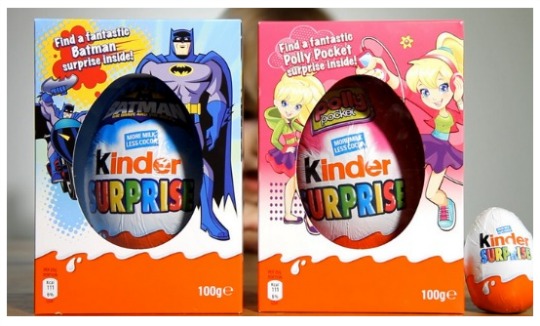 You guys went crazy for these last year, and when we mentioned them a week ago you had the same reaction. The Kinder Surprise Easter Eggs are popping up in all the major supermarkets at around £6 each but shop with Asda and you can get for just £10. I am over the moon at this as I have three boys to buy these for, which would have cost me £18 but I will get them at Asda for just a tenner, saving me a whopping £8 which I will spend on chocolate for myself. He he!
These are really cool and are essentially big Kinder Surprise Eggs. I want one for myself, as I just love Kinder Chocolate. You know with the milk chocolate outside and the inside is lined with white chocolate. It's uber sweet but so yummy at the same time.
Kinder Surprise Eggs have been on the go for a long time so I guess it was only a matter of time before they released giant ones. Inside these Easter eggs you will get either a Batman toy or a Polly Pocket toy.
Thanks to mummyk123 @ HUKD