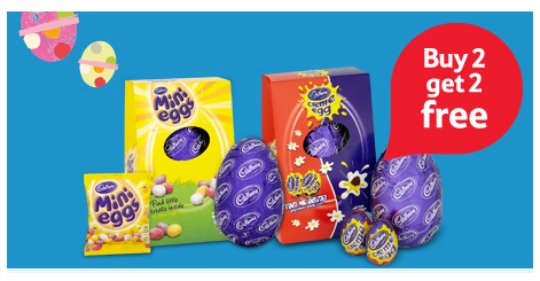 It's more supermarket price wars, this time over Easter Eggs. Asda were leading the way with lots of medium eggs for £1 each, and tomorrow Tesco kick off their big offer. Selected Medium Easter Eggs will be £1.50 each, and buy two get two free! That works out at 4 medium Easter Eggs for £3, or 75p each! That's an awful lot of chocolate for your money.
These are the ones that are showing as on offer, but the ones will vary according to where you get your online shopping delivered from, or the availability in your local store;
Cadbury Mini Egg Medium Easter Egg 136g
Cadbury Creme Egg Medium Easter Egg 178g
Cadbury Flake Medium Easter Egg 153g
Cadbury Dairy Milk Caramel Medium Easter Egg & Small Eggs 178g
Cadbury Dairy Milk Buttons Medium Easter Egg
Aero Medium Easter Egg 124g
M&M Peanut Medium Easter Egg 135g
Rolo Medium Easter Egg
Smarties Medium Easter Egg
Malteaser Medium Easter Egg
Minions Small Easter Egg 70g
Tesco Medium Milk Chocolate Easter Egg & Speckled Eggs 145g
Tesco Medium Easter Egg & Milk Buttons 150g
Tesco Medium Milk Chocolate Easter Egg & Dotties 145g
Tesco Medium Easter Egg & Chocolate Raisins 150g
Princess Small Easter Egg 70g
Avengers Small Easter Egg & Bar 65g
The offer is on in Express stores as well, as my local branch had them stacked up to the ceiling this afternoon, waiting for the signs to go on when the offer starts tomorrow.
If you only need one or two eggs then this is not the offer for you, but if you need a few then this works out at great value. The creme egg or dairy milk ones work out at the best value for money for what you are getting, but the kids won't care too much about that!
Thanks to oscarcat @ HUKD