FREE Dry Nites Sample and Money Off Coupon @ Dry Nites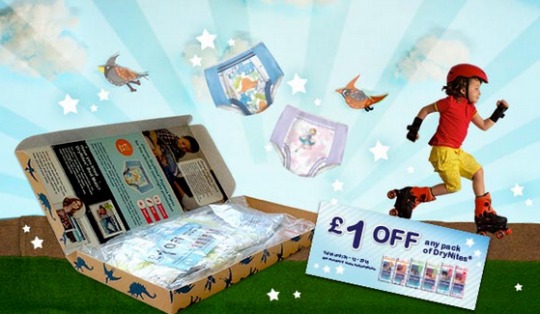 If you are facing the nightmare that is toilet training, or are worried about intermittent bed wetting then you can grab a free sample of Dry Nites disposable pants plus a money off coupon.
All you have to do is register on the Dry Nites website and you will receive a pack with a sample, information, and a money off coupon to use of you decide to purchase any more of their products.
You fill in the details of your children's age and gender on the website so you will be sent the appropriate sample size and design. Once you have received your sample it's easy enough to just unsubscribe to the emails if you don't wish to receive them. If your children do have any bedwetting issues, and it's a lot more common that people are willing to admit, then there is lots of advice available on the Dry Nites website as well.
Thanks to mctree @ HUKD