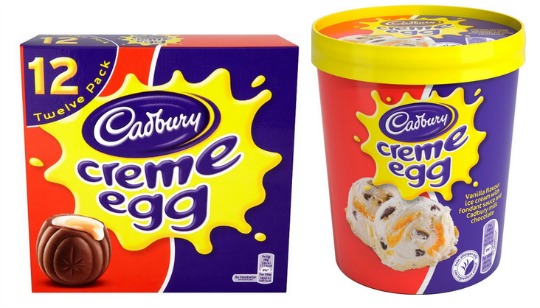 With less than two weeks to go until Easter the supermarkets are battling for our Easter Egg business, and prices this year are tons cheaper than last year - Hooray!
We thought it was time for an update on the best deals right now:
NEW!  Sainsbury's: Cadbury's Creme Eggs* - 12 for £3! Smashing the competition by miles! They will come in handy for the Creme Egg Cheesecake.
NEW! Asda: Cadbury's Creme Egg Ice Cream - 480ml tub, 3 Ice Cream Sticks, or 8 Mini Cones for £1.89! Cheapest of the big four for these tasty ice cream treats. Handy if we get an Easter heat wave? ;)
Tesco: Extra Large Easter Eggs are half price at £3 each.* This is by far the best price for this size egg at the moment - but it finishes TOMORROW Tuesday 24th March. Morrisons are no longer matching this deal either. :(
Tesco: Kinder Suprise Eggs £1 off, now £4. These are the ones with Batman and Polly Pocket toys in them - not much chocolate for your money, but you're paying for the toy really, and last year these sold out way before Easter. If you only want one this is the best offer, otherwise Asda have 3 for £10 which works out at less per egg.
Asda: Selected Medium Easter Eggs are £1 each*. Again these include the Cadbury's and Mars branded ones, at up to 178g again these are great value.
Asda: Kinder Surprise Eggs are 3 for £10*. Other supermarkets have these Batman and Polly Pocket eggs at £5 each, so as long as you need three you are getting a much better deal at Asda. (The other eggs included in the 3 for £10 are mostly £1.50 in Tesco until tomorrow, so grab them in Tesco instead.)
Morrisons: Selected Medium Easter Eggs £1 each*, as in Asda, including Cadbury's and Mars brands.
Morrisons: Small Easter Eggs are 89p* each for Buttons and Freddo Faces, and Milky Bar is 95p
Sainsburys*: Last year Sainsbury's own brand eggs dropped from £1 to 80p, then 50p just before Easter, so it's worth keeping a close eye on that.
Aldi* and Lidl* have the best value own brand eggs at the moment . Aldi's Medium Eggs are 89p each, and mini treats are 59p a bag. Lidl have large chocolate Easter bunnies for only 79p.
We will keep a close eye on the Easter Egg offers and let you know the best offers as they change. Watch this space!