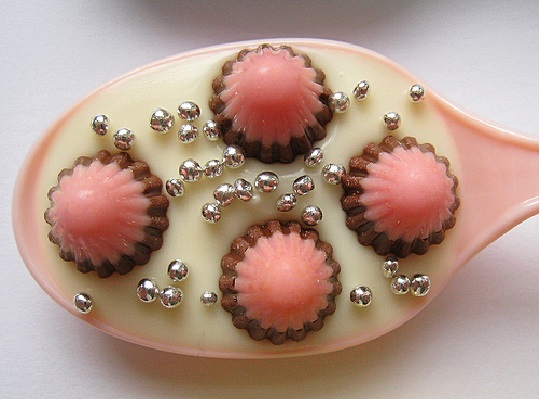 It is that time of the year again when the kids get to gorge themselves silly on chocolate. Easter Sunday is on March 31st this year. So only a couple of weeks to go.
I love Easter, it is one of my favourite holidays (along with Halloween). Mainly because it is so simple. Throw a bunch of chocolate at the kids and they're happy!
It is also in the middle of the Easter school holidays, so you can spend a bit of time doing craft type things with the kids too. If you want!
What I also like about Easter is that it's an easy holiday event to do really cheaply. Here's some of the great ideas and budget deals I've found on the internet.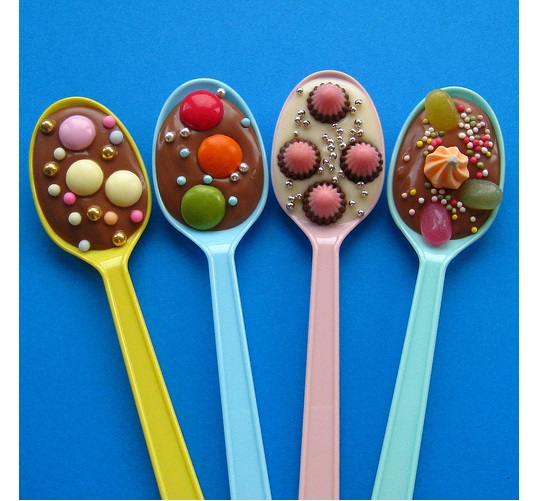 Easter spoons
I found this idea on a blog (click here) and absolutely love it. These spoons look really fabulous, and the kids will love them, but actually don't have a lot of chocolate. It also looks fairly easy to make these - I'll let you know after I've tried them out.
If you fancy doing something for a lot of children, and want something special that won't break the bank, then these spoons could be a great idea. Please do come back with links to pictures if you try them out!
Easter Egg Hunts
Now, if you're looking for a cheap way to do this, and one that won't necessarily stuff the kids with chocolate, then try an Easter Egg Hunt. Plus it gets them out in the fresh air. Take flasks of hot chocolate for the grown ups to keep them warm (and the kids too). In the garden, park, woods - it doesn't matter. But you will need at least two of you. One to look after the kids while the other runs around throwing out the eggs. We have a little woods near us where we do this.
You can pick up bags of little foil wrapped eggs. We've also added in our own 'toys' this year. I've saved up the plastic containers that Kinder eggs come in, and got friends to donate theirs, and we're putting in little chicks and other novelties to keep the chocolate levels lower.
Asda
The supermarket chain Asda* never disappoints at this time of the year. It has large and medium sized eggs priced from £1. This includes eggs such as the Bin Weevil's Bumper Pack (85g) and the more traditional Cadbury's Buttons egg (162g). There are also multi save offers on the larger eggs - so you can get two £3 for £5 and three £5 eggs for £10. It seems like the latter one is the better offer saving you £5 instead of £1. But check out what the other supermarkets are doing first.
Tesco
Tesco* has buy one, get one free on kid's Easter treats and Easter hunt products, like Cadbury's mini eggs. The site is also offering some specials on the larger eggs, with a 3 for £10 offer that looks the same as Asda's.
Sainsbury's
Looks like much slimmer pickings at Sainbury's* today. You can find medium sized eggs for 99p, which is great. My favourite on offer at this store though is the large Gold Lindt Easter Bunny Egg, reduced from £6 to £3.
Waitrose
Pop on over to Waitrose to grab a large Easter egg in their 2 for £8 deal. This includes Easter eggs such as the Quality Street chocolate egg (277g) and Green & Black's organic (180g).
Pound shops and bargain supermarkets
Look in the 99p store, or Lidl, or similar first. It isn't always possible to work out online what each will have instore, but they can be cheaper. That said, I've sometimes found that they cost the same or more than a supermarket special offer, and with chocolate that's maybe a little older and slightly crumbly. So I would check on prices elsewhere first, to make sure you are getting a bargain.
Best Easter egg
Good Housekeeping magazine put 68 Easter Eggs to the test last year. They were rated on taste, value for money, and packaging. And the winner? An Easter egg from Tesco, costing less than a tenner.
Specifically the  Tesco Finest Belgian Milk Chocolate Egg with Cornish Clotted Cream Fudge and Honeycomb priced at £10. I couldn't find any on the website, so it may have sold out already. Would be worth checking in store though. There were some of these, the Tesco Finest Belgian Chocolate And Butterscotch egg, available for £3.
In second place was the Chococo Milk Chocolate Honeycombe egg at Harrods - you can get a 100g egg for £3.20, and coming third was another supermarket Easter egg. The Marks & Spencer White Chocolate Egg with Raspberry Pieces (£4.99). Hmmm sounds delicious.