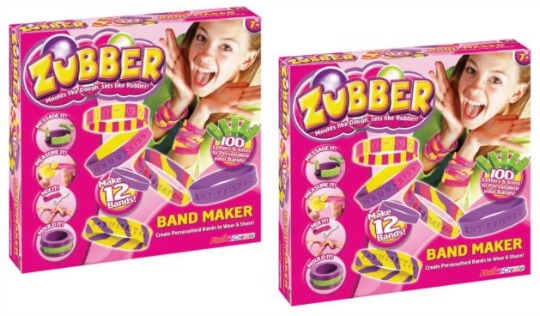 If you are looking for something along the loom band lines but are bored of actual loom bands then check out Zubber. This Zubber bands set is now only £3.99 at Argos. This started out at £9.99 then was £4.99 before Argos did their renowned trick of taking off that extra pound.
What the heck is Zubber? It's a material that moulds like dough but sets like rubber. I am already sold, this sounds fun. This kit has enough moulding material (in three colours) to make twelve Zubber bands. Now these sound much more entertaining than loom bands and you can totally personalise them.
The Zubber  is mixed up and pressed into a mould where it requires only ten minute to set. There's one hundred letters and numbers to add your own special message on each Zubber band you create. With this you could make friendship bracelets, club bracelets, or even I love One Direction bracelets.
One things for sure, for £3.99, this is bound to occupy your little darling for a good hour or so. Money well spent.
You can collect the Zubber Bands set from your local Argos store for free or pay £3.95 to have it delivered to your home.