Zapf Creations CHOU CHOU Mummy Make Me Better Doll Review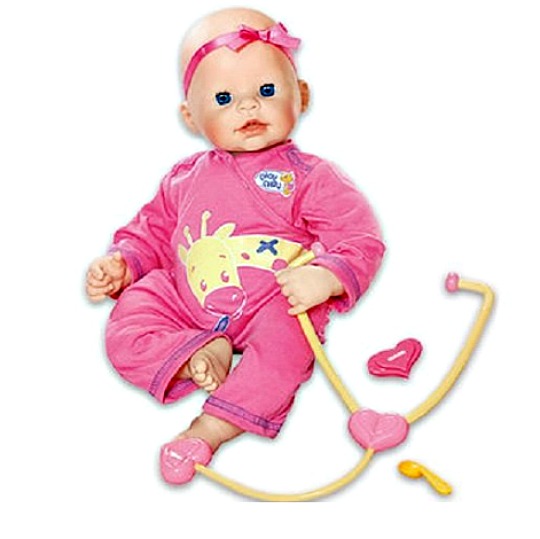 The CHOU CHOU Mummy Make Me Better Doll by Zapf Creations (normally £34.99 but currently on offer at £24.99 from Amazon*) is a doll with a difference.  Forget all those other cutesy dolls with their frilly dresses and silly baby accessories - this little lady needs to be nursed back to happy health, and I reckon she'll be a huge hit with little ones who love having something to fuss and mother over.
CHOU CHOU means darling in French, and the Mummy Make Me Better dolls are billed as "adorable, soft, flexible, cuddly function dolls" which "encourage even the youngest doll mummies to provide loving care and accompany them through their early childhood development".

Let me start by saying that I was a bit dubious about this doll at first - I just wasn't sure about the whole notion of a 'sick' doll that needs to be made better, but the little people we gave the doll to for the purposes of this review absolutely loved it. In fact we had a fight on our hands just trying to get it back at the end of the review!
Suitable for children aged three years and older, the CHOU CHOU Mummy Make Me Better Doll requires 3xAAA batteries (so bear that in mind when your little one begs to take it in the bath... very bad idea...) and comes with everything you need to make her well. Included with the doll is a stethoscope (heart-shapeded, no less), a feeding spoon and a heart-shaped thermometer.

When you press the doll's back she starts to cry and her cheeks turn red but when you pop the heart-shaped thermometer in her mouth she'll stop crying, and her temperature will register on the thermometer. When you put the stethoscope in your ears and press the other end of it to the doll's chest, you can hear her heart beating. You can also soothe away the doll's tears by rocking her gently in your arms.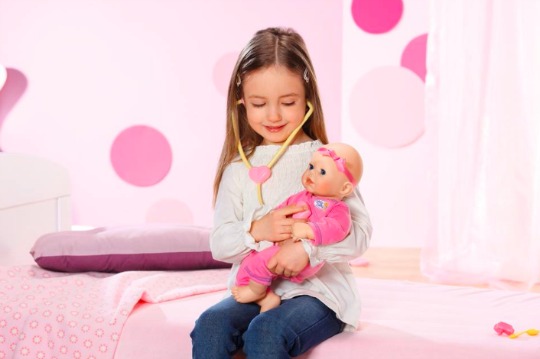 I'm not sure that there's anything quite as cute as the sight of a little tot rocking her dolly to make her feel better. But cuteness aside, I found that playing with this doll genuinely helped our tester develop her empathy skills. After nursing her doll we noticed that she was more inclined to show gentleness and compassion towards other people and objects too, so it provided some excellent learning opportunities, as well as hours of fun.
To make the doll's red-cheeked fever disappear, little ones need to press the medicine spoon to her mouth, and she makes slurping noises until her rosy cheeks fade back to normal. I loved this feature because it encouraged our little tester to be more co-operative when taking medicine or having her temperature checked herself.
In fact the the whole process of being unwell and needing medicine was made easier for our little tester to address with CHOU CHOU Make Me Better doll keeping her company. For that reason I'd definitely recommend this doll for any child who either has to take medicine regularly or be seen by a doctor or health professional. Role-play with the doll made subsequent visits to the doctor much less overwhelming, and it helped that the doctor was happy with the dolly tagging along!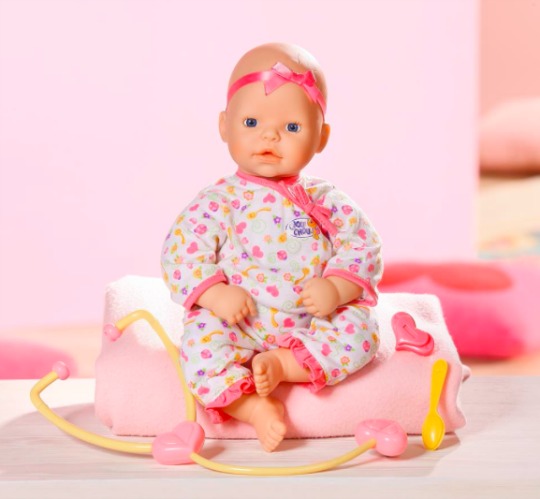 Best of all, though, the Mummy Make Me Better doll laughs when she's finished her medicine and is feeling better. That's a very cute feature, and very rewarding for the child's efforts to make the doll better. 
Happily, you can turn the doll 'off' at bedtime or whenever you've had enough of the crying, which is surprisingly realistic! The only drawback with this doll is that you really don't want to lose the thermometer or the medicine spoon, but they're so small that they're very easily misplaced. It's very frustrating for a child to play with this doll without those accessories so you either need to keep a close eye on where they end up, or invest in a little bag or box to keep them safe.
Our tester wanted to keep her accessories in a doctor's bag, which further encouraged all sorts of health-related role play and fun, so I'd recommend doing something similar. It's a soft-bodied doll too, which means it's great for little ones to cuddle, too.
The Mummy Make Me Better doll comes wearing a sleepsuit and matching head band, and fits into newborn baby clothes too, so we had hours of fun dressing this doll in the tester's own old baby clothes. You can also pop a newborn nappy on this doll, which we found helped our tester get ready for the realities of a new arrival, with all that caring for a baby entails.
Check out the Zapf Creation Facebook page for more information on the Chou Chou Mummy Make Me Better Doll plus lots of other products and offers - it's regularly updated.
Pros Excellent for addressing illness and helping little ones get to grips with taking medicine or seeing medical professionals. Also great for developing empathy and compassion.
Cons Don't lose the medicine spoon or the thermometer, or the doll doesn't really work properly. Don't take it in the bath - batteries!!
Overall verdict 9/10 Brilliant and highly recommended, especially if you want to help a child prepare for a new baby, or develop their compassion skills or get to grips with having to take medicine or visit the doctor.