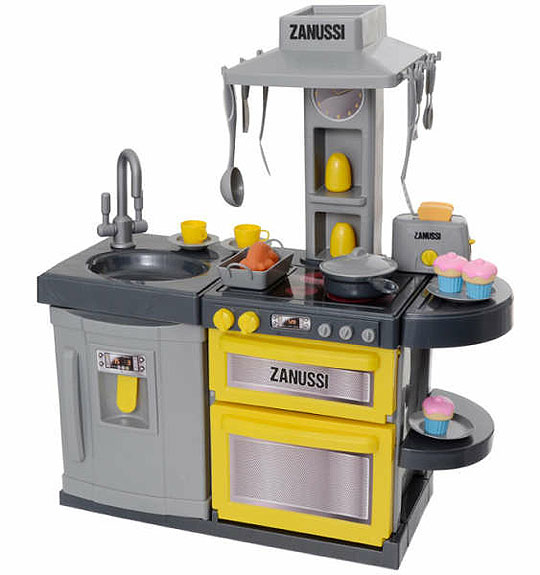 I was going to tell you about the Hello Kitty Play Kitchen that's on sale at Tesco for £15, instead of £45, but I think I might actually lose the will to live if I write about the pink plastic-fantastic monstrosity again.
I don't have anything against play kitchens, per say, just the ones with subtle (or not so subtle) undertones of 'kitchens are for girls and must learn their place in them from the earliest age possible!'
So to redress the balance and to let the boys get in on some play kitchen action - my youngest son loved playing at being a chef when he was a little bit younger than he is now - I'm going to highlight this very masculine-not-a-hint-of-pink-to-be-seen Zanussi play kitchen instead.
If I was going to buy a play kitchen then this one would be it - it's very stainless steel looking, rather like my own grown up kitchen, and has everything a play kitchen should:
A sink with mixer tap
A fridge with water dispenser in the door (I don't think it really dispenses water)
An oven and grill
A hob and hot plate with extractor hood above
A toaster, complete with toast
Storage shelves and various cooking utensils and kitchen paraphernalia too
It makes realistic sounds, which require 3 AA batteries to actually work, and is suitable for budding chefs aged three years and over.
Happy playing in a not-pink play kitchen; hurrah!