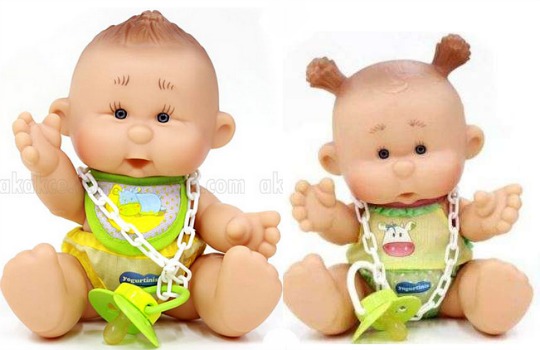 Do you remember Strawberry Shortcake dolls? What about Cabbage Patch Kids? Yes? Well, firstly, that means you are old (don't worry I am too) and secondly, these Yogurtini dolls are a 21st century fusion of the two. Asda Direct have these two fairly new versions of the doll, Cher Pear and John Lemon, for only £7.49. These are selling elsewhere for around the £15 mark, each.
These Yogurtini dolls are chubby and supposedly cute, in the same beady eyed way that Cabbage Patch Kids were. In other words, flaming hideous. I was a child of the 80's and I owned a Cabbage Patch Kid and loved her just like your wee one will love his or her Yogurtini. They are scented sweetly depending on which flavour they are.
The legs, arms and head are all moveable and you really need to see the packaging these come in. A little, see-through yogurt pot with the doll sitting in the middle. These would make lovely gifts for birthdays of even for Christmas. Each doll comes with an outfit and a pacifyer (dummy).
Why not take advantage of Asda's free collection service in your local store to save those extra pounds. If delivery is a must then it is at a cost of £3.