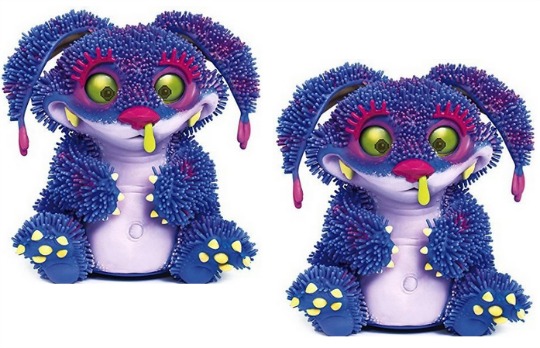 Yup, I thought these might grow on me but they are still as hideous as they were the last time I blogged them, thankfully they are cheaper though. Get your reluctant self over to Amazon and you can pick up one of these babies for just £57.99 delivered. It's really not bonnie, but you know that if it's on that Christmas list then you are going to buy it anyway. You might as well pick it up at this price. If you have a Mastercard then you can get an extra £5 off, making Xeno just £53.99. All you have to do is pop MCARD5OFF in at the checkout.
Chances are you will know by now that I don't like these Xeno things. Why? It's not even it's grim face that irks me, but that flaming disgusting dripping green bogey hanging from it's nose. Somebody get this monstrosity a tissue!
It is an interactive toy that apparently shows real emotion. Xeno can express happiness, sadness and playfulness. The eyes are LCD and reflect expression and emotion.
With the ability to ask your child questions and to chat, you can guarantee that this toy will also possess the ability to get on your wits end in about five seconds flat. Kids just LOVE gross or irritating toys so with this you are on to a winner!
Kids can tickle Xeno so until it FARTS, yes, it can fart! It can also be fed and can dance to music.
There's games already programmed into Xeno, but in the likelihood that your child will eventually get bored you can download a FREE app so that you have access to additional games.