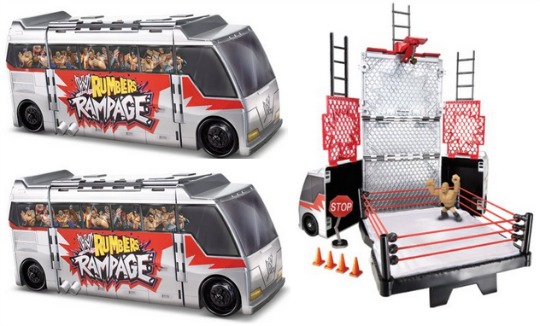 Let me start by telling you that this is £40 at Very! £40! £24.99 at Toys R Us. The WWE Rumblers Transforming Tour Bus has been absolutely slashed in price at both Amazon and Smyths, so grab a bargain now. I wasn't aware how popular is until my son hit eight years old. It was massive when I was little and I had no idea it still was.
In my day it was WWF and WCW, but I guess that was many moons ago. I am quite impressed with this wrestling play set, it's a tour bus that transforms into a wrestling arena. It comes with one figure ( The Rock) but is compatible with any wrestling figures. There's other wrestling props and accessories included too.
The wrestling ring is super bouncy which means your little one will have oodles of fun launching their fighting figurines off of it.
If you wish to get this from Smyths then you can collect it for FREE from your local Smyths toy store, or have it delivered for £2.99. If you pick Amazon, then find something costing 41p or more to bump your order to £10 and get it delivered for FREE.