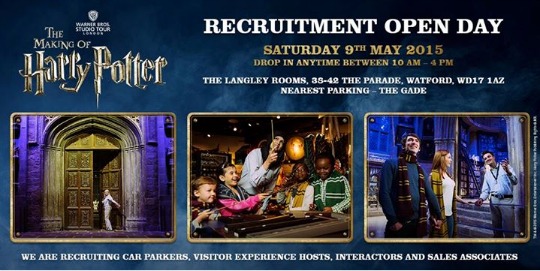 Are you a Harry Potter fan? Are you busy tomorrow? Live anywhere near Watford? 
If you answered "Yes!" to all three then this is your lucky day. Warner Bros Studios are holding a Recruitment Open Day tomorrow. They are looking for Visitor Experience Hosts, Interactors, Sales Associates and Car Parkers for 'The Making If Harry Potter'.
You can drop in to the open day at The Langley Rooms in Watford at any time between 10am and 4pm tomorrow if you are interested in any of these posts. You can also apply online at the Warner Bros Studios website.
So, do you know anyone who would be interested in this? Working in the world of Harry Potter must be a dream job for many, so expect there to be a lot of applicants!