Wooden Toys From 79p @ Net Price Direct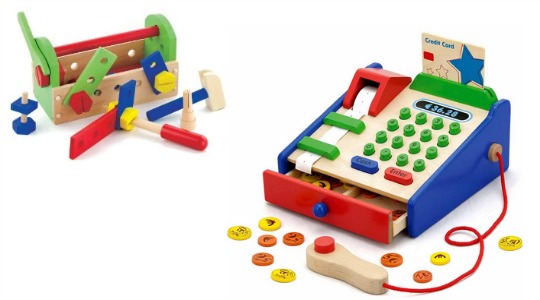 It's fair to say that wooden toys are very 'in' just now. I am a massive fan myself and like the traditional feel of them. Not to mention the fact they look very nice sitting in a little ones room. They tend to last which means you can pass them on to siblings. They are simple and require imagination. Net Price Direct have a super selection and they start from only 79p. You just have to check them out.
Not sure what to tell you about first since it all looks great for the money. This Viga Wooden Sink Unit* is pretty cool and is only £41.99. It is a wee bit different and would be a decent add on to a play kitchen. Talking of Play Kitchens, this Viga White Wooden One* is only £36.99.
You have got to love this Viga Wooden Garage*. It looks exceptional value at just £16.99 and is a nice alternative to the plastic ones that you see everywhere.
This Viga Wooden Cash Register* is just £10.99 making a great birthday party present for a little one. Another great affordable gift would be this Wooden Tool Box* for jut £6.99.
Delivery costs £4.95 or spend over £50 and get FREE delivery.