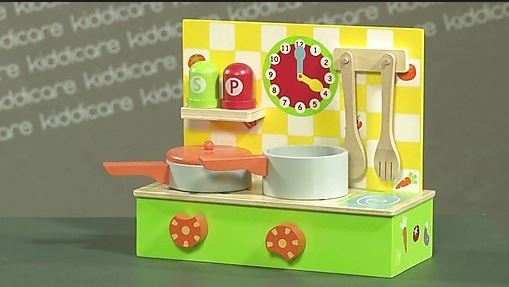 Kiddicare have a Buzzing Brains Table Top Kitchen on sale for £8.99, with £2.99 delivery it's £11.98. I think this is a fabulous price. It's reduced from £29.99 and with a few exceptions, even these small little table top play kitchens go for upwards of £20.
Buzzing Brains Table Top Kitchen is a compact wooden kitchen that packs away when playtime's finished. It includes everything needed for a young budding chef, including a salt cellar, a pepper pot, two spatulas, 1 pot and 1 pan.
This strikes me as the perfect little play thing for a home that doesn't have a lot of space, or for a child with a short attention span. I mean, we have a beautiful play kitchen and my girls really like it, but play with it maybe a few times a week and then only for a few minutes at a time. At least at this size it can be packed away and brought out from time to time, which would probably make it played with a whole lot more. Kids are funny like that, aren't they!
If not for yourself, I think it would make a lovely birthday gift too - not least because it looks like it cost a fortune, and it really doesn't.