Wooden Rosebud Dolls House £50 @ ELC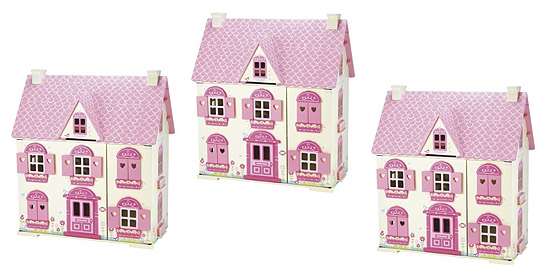 If you get yourself over to the Early Learning Centre you'll be able to pick up one of these smashing wooden Rosebud doll's houses for half price - they were originally £100, now they've been reduced down to £50.
My friend used to have a doll's house.  I was always fascinated with it but never wanted one - I seem to remember it had little standard lamps that worked when you flicked the light switches on, but I'm dragging memories out of my brain from over 35 years ago so I might just be imaging a lot of it.
This Rosebud dolls' house is one of the prettiest I've seen in the last three years - its three stories are painted in different shades of pastel pink and the entire front of the house opens out.  The roof also hinges open and features safety catches to ensure small fingers don't get trapped.
The front door opens, as do the window shutters, and the whole house measures 64cm high by 46cm wide and is 20cm deep.  You're going to need to put your self-assembly DIY hat on and put it together when it arrives which, according to the official blurb, should only take about 15 minutes - you'll need a screwdriver, but I can't tell you which type...I hope you've got both in various sizes!
I can, however, tell you that standard home delivery of your wooden Rosebud doll's house is free, so you won't have to pay any more than £50 in total; hurrah!
Thanks to knoxy2000 at HUKD