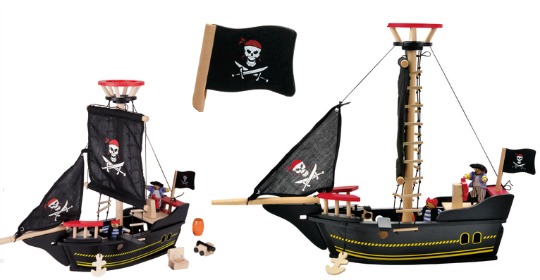 Traditional wooden toys are definitely really popular this Christmas, and this beautifully made Buzzing Brains Pirate Ship has been reduced by a huge 68%, down from £34.99 to just £11. That's a saving of nearly £24! Even if you don't get anything else to hit the Free Delivery threshold of £30, then adding £2.99 delivery still means that this is a great price.
It's a fairly big sized ship at 42cm long (nearly one and a half feet), and all of it including the accessories are made of wood apart from the fabric sails and flag. It comes with 2 pirates who have seen some action in their time judging from the scar, eye-patch and peg leg. There's a treasure chest to hide your booty in, a cannon to fight off your enemies, and ..shhhh...a hidden compartment in the ship!
It looks like a great sturdy chunky design that should last a good while. My son has a cheaper plastic one that bits fall off on a regular basis, which is not good with a toddler following him around picking up everything he drops.
I won't make any bad pirate jokes this time, but I will tell you that I think this looks like a great toy for young children, and that I wish I had seen this before I'd bought the kid's gifts.