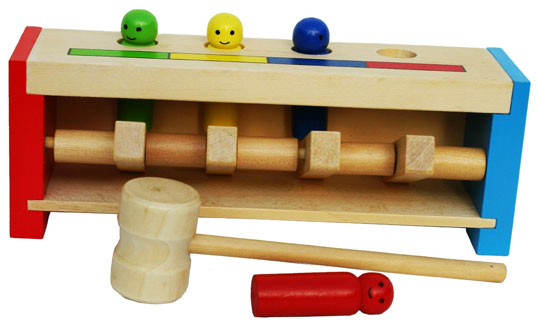 Amazon are selling this wooden hammer and pegs toy for £6.99 rather than £12.50.
The proper title for this toy is actually: Wooden Hammer and the Flying Men, and they're just a little bit 'more' than your bog-standard wooden hammer and pegs toy.
If you use the hammer to hit the bar then the coloured men will fly away;  if you press the wooden bar(s) lightly, with your hand or the hammer, and rock the bar(s) instead, then the little brightly coloured chaps will bounce up and down as though they're playing on a see-saw.
Because the wooden men are attached to their bars, they won't go disappearing and prompt a full-scale search under chairs, behind sofas or between their cushions.
A Wooden Hammer and the Flying Men toy will also help to develop your child's hand and eye coordination, concentration, aiming and problem solving skills, along with getting to grips with early counting and colours too.
All in all, it's a great little wooden toy (hurrah for wooden toys and no batteries!) for a great little price.
Thanks to thomascromer at HUKD