Wooden Dolls House With 100 Pieces £49.99 @ Toys R Us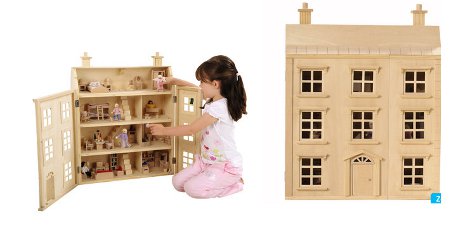 Toys R Us have a wooden dolls house on offer for £49.99, 50% off the original price. Aparently it's been that price for a while, and we even wrote about it about a year ago, but with a birthday coming up, and the big "C" just over 100 days away, now seems as great a time to remind you as ever!
No matter how long it's been at this price (I don't know, actually, it's the first time I've seen it), this dolls house is still great value for money.
For under £50, you get a doll family, consisting of mum, dad, boy, girl and baby. Furniture wise you have a dining room with table, chairs, cupboards and accessories; a cooker, cupboard, washing machine and accessories for the kitchen; sofas, a table, TV unit and shelves for the sitting room; a bed, bedside tables, vanity unit, and wardrobe for the master bedroom; the kids share a room with bunk beds, rocking chair and a crib, and a bathroom with a sink, toilet, and cupboard.
Delivery will cost you £4.95, or you can click and collect from Toys R Us.
Thanks to ljfx at HUkD