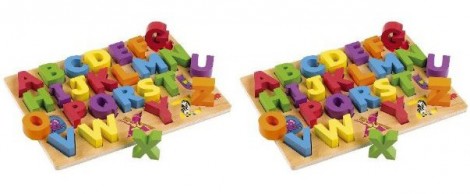 Amazon are selling this wooden alphabet set for £11 instead £16.99.
Yes, that's right, you can mooch over to Amazon this time instead of dashing, as this wooden alphabet set is an Amazon 'Deal of the Week' which means the £11 price is fixed for the whole week; hurrah!
I love wooden toys, I love educational toys and I love puzzles too - this wooden alphabet set ticks all of those boxes and if I knew someone who had a little young who was the target age for this sort of toy, then I'd buy it for them.
This wooden alphabet set is made up of chunky wooden pieces that are perfect for little hands and fitting each letter into the proper place will help to develop their fine motor skills.
Pattern recognition skills will also come into play along with, of course, being well on their way to learning the all-important alphabet.
My youngest had something similar to this and he thoroughly enjoyed playing with it; he still does in fact, even though at almost five years old now he finds it easy peasy.
Happy Alphabetting!