Wooden Activity Multi-Cube £29.99 @ Toys R Us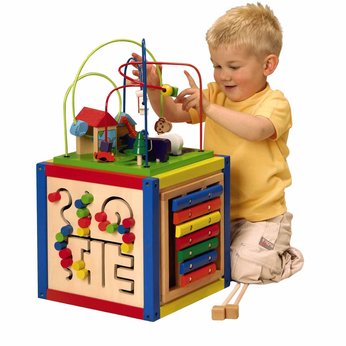 I love toys like this wooden activity multi-cube. I especially love it because it's been reduced by a tenner from £39.99 to £29.99.
The benefits of toys like this are many.

Hours of fun for your child with lots of learning and development going on at the same time.
On the top of the cube is a twisty wire and bead labryinth type doodah - you know what I mean - and there are different activities on each side (apart from the bottom side of course!).
There is a xylophone for developing muscial skills, an abacus for counting, adding and subtracting to get cracking with numeracy.
There's a white board for drawing and writing, it comes with magnetic shapes too, and there's a coloured wooden counter maze.

All of these things will help to develop fine motorskills and the wooden maze and wire labryinth will encourage puzzle solving abilities and promote lateral thinking.
In addition to all of this, you can flip over the top so that the wire thingy sits inside the cube which makes it nice and neat for storage.
This wooden activity multi-cube is suitable for little ones aged 18 months and over, and if you can't collect it from your local Toys R Us then delivery will be £4.95.
Happy activity cubing!