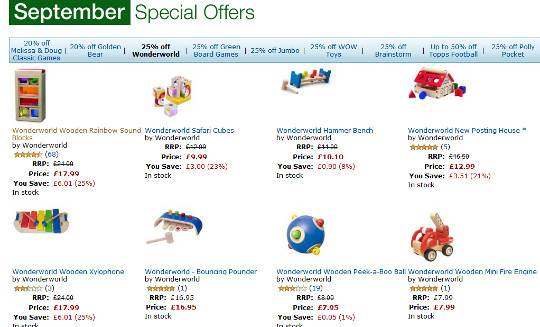 Amazon have a September special on Wonderworld wooden toys - honestly, I have no idea how I missed this for most of September! They are offering up to 25% off this beautiful range of sensory toys for babies and toddlers.
Our local children's Surestart centre must be one of the nicest in the country. As compared to the one we had in London, it's positively paradise. They have an enviable selection of toys, with many gorgeous wooden ones thrown in. They really have the most gorgeous stuff and our weekly playgroup is a pleasure to attend. They also have  a catalogue of where they buy all their wooden toys and the prices have always made me balk. With 25% off, these Wonderworld toys are much more reasonable.
One of my favourites for babies, because they always seem engrossed by it, is the Rainbow Sound Blocks which are normally £24 but are now reduced to £17.99. This colourful six blocks in one set offers a different sound when each block is shaken and every baby in the group loves it.
There are musical toys, noisy toys, puzzle toys and push along toys to choose from, and they make perfect gifts!