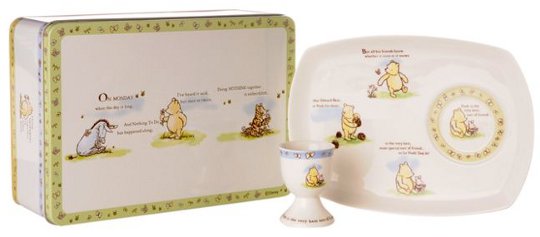 There's a gorgeous Winnie the Pooh Snack Plate and Egg Cup available at House of Fraser for £8.50 instead of £17.
I must admit that at £17 I would probably just gloss over this set, but at £8.50 it's much more appealing.  The snack plate and egg cup are lovely keepsakes, but also practical and useable.
'A Friend Forever' is the theme of this set, which is fine china – so not really suitable for toddlers, I don't think! – and is quite limited in it's ease of use: it's not microwave safe, not oven safe and needs to be handwashed… so perhaps more keepsake and dinner plate, but still.
You can buy and collect from House of Fraser for free, seven days a week, or you can have it delivered Monday to Friday for £3 – not too bad really.
All in all a lovely set for a collector or fan.
Thanks to missgem at HUKD