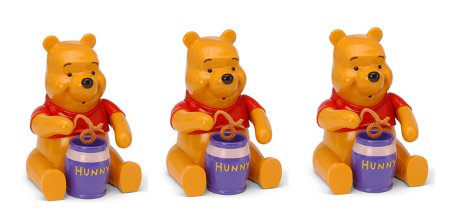 It's my daughter's 2nd birthday party soon, and I may have gone a little over the top with the Winnie the Pooh décor –including decals, goody bags complete with stickers, games, a wallet and whistles, all Winnie the Pooh themed. I also thought this Winnie the Pooh Gazillion Bubble Blower would add a fun touch to the garden, filling it with bubbles.
Sadly, I was wrong.
Look, the Gazillion Bubble Blower is very cute. It's a shiny happy looking Pooh bear that raises and lowers his right arm into the honey pot and up to his mouth, from which a steady stream of air blows. The fan makes a whirring sound, but it's not terribly loud or  overly obtrusive.
The problem comes in the bubbles: there aren't any.  Pooh blows, a bubble forms and it pops. There's no release or stream of bubbles floating into the air to be chased by exhilarated toddlers.
I thought perhaps it was just a bad bubble liquid, so replaced it with bubbles from our favourite oversized bubble wand, but alas, it made no difference.
While I still think Mr. The Pooh would make a cute centrepiece – away from the food, as the bubble liquid pops all around it – and he still looks cute blowing his bubble, it's just not what I expected, nor does it give us the party effect we were after. The disappointment is so much worse for the misleading name though – Gazillion bubble blower? Erm… not so much.