Winnie The Pooh Dream Glow Bear £4.50 @ Debenhams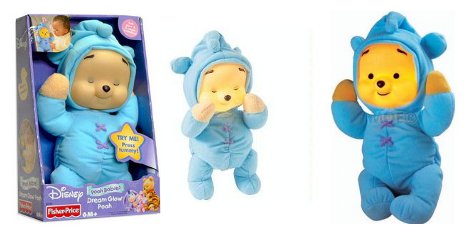 The dream glow Winnie The Pooh bear from Fisher Price has been reduced from £15.00, to £7.50 and now to £4.50 at Debenhams.
I must admit I've always been in two minds about this little bear with the glowing face – it's either going to scare the stuffing out of a toddler, or they're going to love it. At the same time, I'm not sure I like the dependence on a night light, but at least it's not on all the time.
This Pooh Bear reacts to being squeezed, when his eyes open and his face begins to glow. He has five melodies that are meant to soothe little ones, as well as nature sounds and a light-only mode.
Both customers that have rated the Dream Glow Winnie The Pooh have given him five stars, stating that he is "lovely, really cute & just the right size for a toddler" as well as that he is an "ideal gift for a 6 month old" and a "good quality product".
I guess at £4.50 you can't really go wrong - if they child doesn't like it as a night time companion, it wasn't too big a waste. With two pregnant friends, this seems like a pretty good idea to me now, especially with free delivery.
Thanks to plodding at HUKD