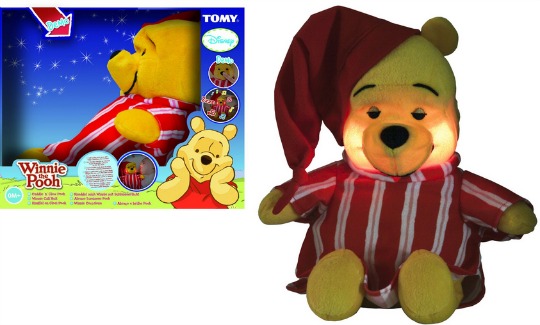 Do you know that everyday Amazon launch a new "Deal of the Day"? Well they do and the Winnie the Pooh Cuddle N Glow Pooh is just £13.99 for today only as part of their special daily offer. The very same glowy Pooh sells for £22 at Debenhams and around the £20 mark at other retailers. Included in the £13.99 price is the FREE Super Saver delivery from Amazon. Grab one now before they sell out!
The Winnie The Pooh Cuddle N Glow Pooh might look like any other plush toy at first glance but he offers so much more than to be a night time cuddly. When he is snuggled into his cheeks will glow and there's five different soft lullabies that will sound. Perfect for new or little babies to help them drift off to sleep.
If you opt for no lullabies then you will hear Pooh yawn and snore and you can also choose to use the glow nightlight without any sound at all. Sometimes that's best.
You don't have to worry about this toys wasting batteries by being on all night when it's not required to be, as it has an automatic timer. This ensures that Pooh switches off after ten or twenty minutes. He takes two AA batteries only and can be machine washed.