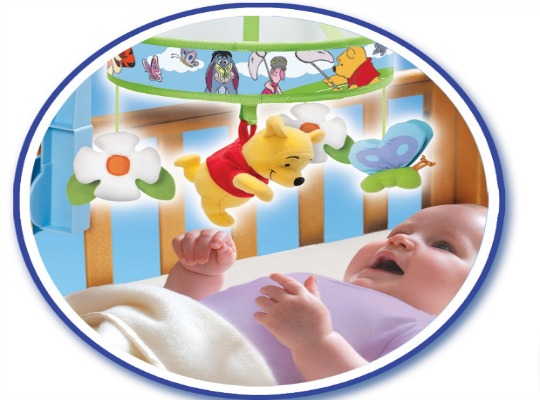 Winnie the Pooh is still kicking about after all these years and can still be found plastered all over baby goods. He is non-threatening and ever so cutesy. This Winnie the Poo Chasing Butterflies Cot Mobile is reduced to just £7 at Tesco Direct. This very same cot mobile is £31.99 at Argos, so this is an absolute bargain for your little bambino.
I would personally never have paid over £30 for this, but it is worth the £7 price tag. It plays sweet lullabies and to get the music to sound you must wind up the music box. I prefer traditional style cot mobiles.
This Winnie the Pooh Chasing Butterflies Cot Mobile has detachable plush toys and features Pooh Bear himself. I like that the toys can be removed  so that baby can play with them once they are too big to have a mobile attached to their cot. This is normally as soon as baby can go on hands and knees.
You can click and collect the Winnie the Pooh Chasing Butterflies Cot Mobile for FREE from your local Tesco Direct. If you'd prefer home delivery then it costs £3.