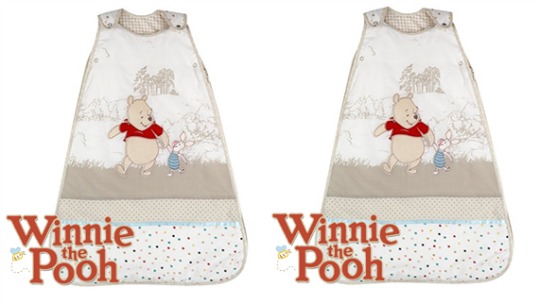 I know this is a very specific baby item, but it's such a great price I had to share. The Winnie The Pooh Baby Sleeping Bag has an RRP of £35, and although that sounds way too high the price is only £5.99 at Home Bargains!
There is only one size at the moment, which is the 6 - 12 months one, but if you have a child younger than that you could always grab it for when they are a little older. Even with the delivery charge of £3.49 added this is way cheaper than most baby sleeping bags.
I'm used to seeing togs of 1.0 or 2.5 for baby sleeping bags, but this one is described as a 1.9 tog. Normally a 2.5 tog is described as suitable for all year round except high summer, but there will be more information with the product.
This Winnie The Pooh Baby Sleeping Bag is new to the Home Bargains website, and will also be in stores subject to availiablity. If your local store doesn't have this Pooh one then I have seen some other brands for a similar price in my local branch as well, so it's worth a quick look if you need one of these.