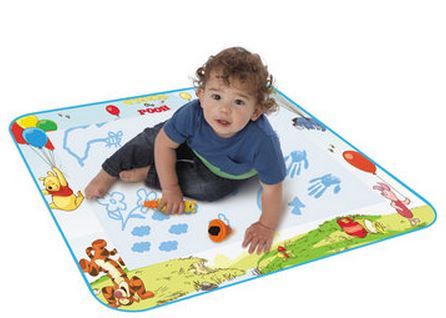 It's a travelling time of year, and anyone who has done any kind of distance with a toddler knows full well how valuable an aquadoodle mat can be at these times. The Winnie the Pooh Aquadoodle from Toys R Us is reduced from £19.99 to £9.99, although there's £4.95 delivery or free click and collect.
There's not what I would call a huge amount of information on this aquadoodle set. If you don't know, an aquadoodle mat comes with an empty 'pen' that you put water into. You draw on the mat, and as the water dries, it self-erases. It's fabulous for car or plane trips and allows for hour of use - you just keep filling up the pen. Cheap, and easy, and no fuss. And since there's only one pen, you don't spend the flight/trip picking up pens. That's a bonus.
This one comes with a mat and a fun Winnie the Pooh shaped pen plus a cloud shaped stamper that attaches to the pen.
Thanks to stout2212 at HUKD