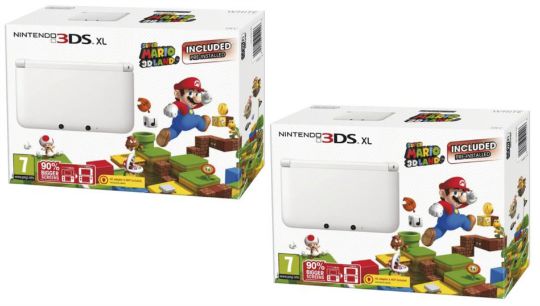 This is the cheapest I have ever seen this Nintendo 3DS XL Super Mario 3D Land package. In fact it sells for £179.99 at the official Nintendo Store. Tesco Direct have it in their Flash Sale for only £109, so now's the time to buy this if you have been looking out for one. Think ahead to that festive celebration at the end of the year, this could come in handy for then.
The Nintendo 3DS XL console in this set is Brilliant White in colour, and features a large screen for your little ones to fixate their eyes. The console comes with the Super Mario 3D Land game, which is pre-installed.
The battery life is supposedly longer lasting in comparison to that of the 3DS. I couldn't tell you if that's true or not, however the reviews and ratings for this console package are good.
It comes with a 4GB SD card, which you can use to store content from the Nintendo eShop or save progress on game. You can use any 3DS game with the 3DS XL as they are fully compatible.
You can Click and Collect the White Nintendo 3DS XL with Super Mario 3D Land Limited Edition for FREE from a Tesco store near you or pay £3 to have it delivered to your front door.