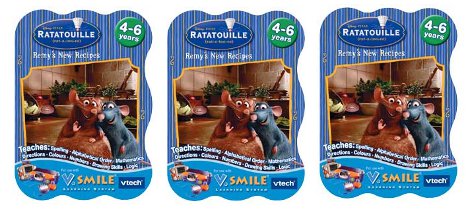 The Vtech Vsmile TV Learning System is currently £17.99 at Argos, down from £56.98.
This learning system includes a console, Thomas the Tank Engine and Ratatouille software – which is compatible with other Vtech Vsmile games – a microphone and joystick with pen and drawing pad.
This Vtech Vsmile system caused a bit of conversation on HDUK today – apparently the graphics aren't great quality, but it seems that's okay, according to those who have it, as it's not meant to be for games. It's educational, teaches children counting, letters, spelling and pronunciation, which is great if you'd like screen-time to involve actual learning rather than just fun.
It doesn't come with the adapter, but they're around £8.00 or you can pick one up in Poundland, which is recommended or you'll be flying through batteries as this takes four AA's.
The Vtech Vsmile is available for home delivery or can be reserved for instore pickup.
Thanks to Shadow1 from HUKD