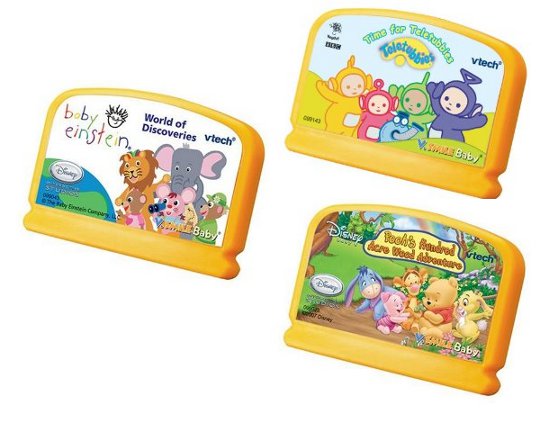 There's a huge discount on three VTech VSmile Baby Learning Games at Amazon right now, with up to 87% off.  The games were £14.99 each originally, but now you'll find them for the prices below.
The VTech VSmile Time for Teletubbies is reduced to £1.89 saving you £13.10. It includes three fun grow-with-baby levels that teach age appropriate colours, shapes, opposites, movements and much more, making learning fun! In Watch & Learn mode Tinky-Winky will introduce beginner baby sign language including words like love, again and stop.
For £1.99, you can have Baby Einstein, which teach about animals, weather and body parts. It also covers shapes and movement and introduces baby sign language.
The more 'expensive' game is Pooh's Hundred Acre Wood Adventure at £2.99. The modes are- Play Time, where you watch your baby play with the activity panel and see special effects on the screen, Watch and Learn, where your toddler can watch educational videos complete with baby sign language and Learn and Explore where your child can direct the play on the screen. Learning activities in this game include colours, opposites, nature sounds, music, numbers and baby sign language.