VTech Toy Story Star Command Laptop £24.68 @ Amazon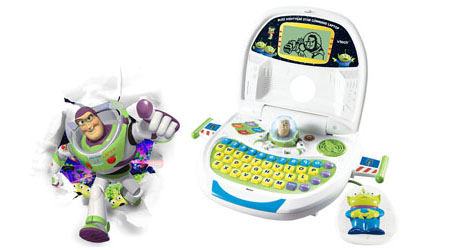 Toy Story fans may now jump around in horror or delight – Vtech have released a Toy Story Command Laptop that comes with all sorts of fantastic extras and cool shining lights, and a miserable tiny little screen. Although it is down from £34.99 to £24.68 with free delivery, I am not sure I recommend this one.
The features include being able to press Buzz's helmet and watch the transformation from spaceship to laptop, LED lights flashing in Buzz's helmet to enhance gameplay, a QWERTY keyboard and a four-directional cursor mouse, 30 activities in four categories. The categories are letters, phonics, basic Spanish, maths, logic and memory.
It requires three AA batteries and, if it is anything like our laptop, the batteries will last for ages. However, the screen is hideous. In this day and age, offering up a teeny tiny screen with minute black pixels is beyond horrific in my opinion. We got the Vtech laptop and unless you sit with the light at a very specific angle you can barely see what's happening on the screen.
It may be a good discount but I am really not sure if it is worth the spend.
Thanks to mumofthree at HUKD!