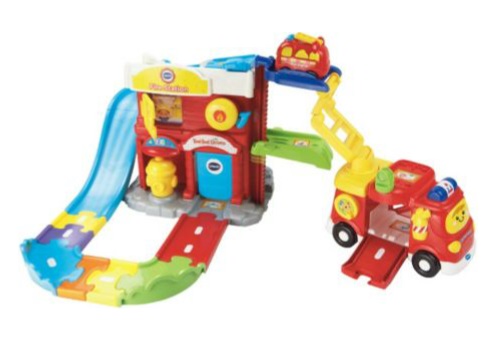 With apologies to those who don't have any stock near them - which seems to be most of Scotland, I'm sorry to say - £20.99 for the VTech Toot Toot Driver's Fire Station is a cracking price. More so if you're able to combine it with the Argos 3 for 2. If you have to drive just too far for this from Argos, though, you can pick it up from Asda at £24.97, but without the fire truck, it looks like.
Ring the fire alarm to send the fire engine to the emergency! The Fire Station features lots of fun manipulative areas including a flip-up launcher for emergency speed, working fire alarm, rolling fire hydrant, sliding lift and open & close door.
The Toot Toot Driver's Fire Station Play Set includes a small Toot-Toot fire engine, 9 interchangeable track pieces that can be swapped into different combinations and 3 interactive SmartPoint locations that trigger fun responses when driven over by the appropriate cars. It includes a flip-up vehicle launcher, extending ladder, rolling fire hydrant, turning fire hose too, so there's lots of play for your money. 
We know not everyone will get these, but it's a great price for those that do.