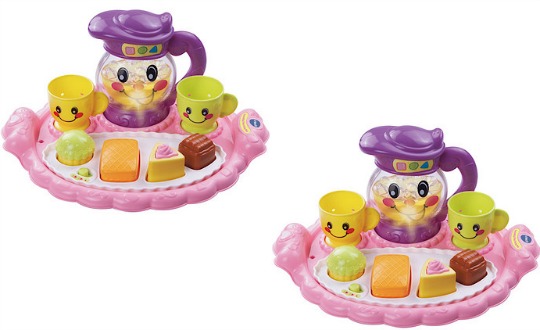 You don't need an excuse to buy your baby toys like a birthday or Christmas. Babies will show interest in toys from around the six month mark. This VTech Tea Party Set is half price from £15 to just £7.50 at Tesco Direct. It sells for much more than £7.50 elsewhere so grab one now. It's suitable for children aged six months and above and would make an ideal first interactive toy.
The VTech Tea Party has a lot of different elements to it, like a cake (shape) sorting tray. There are four interactive press buttons that will make sounds and make lights shine.
The jug can be tipped and makes sounds too. As well as an interactive toy this VTech Tea Party Set is a great roleplay toy for little ones and it'll get their imaginations going.
Altogether it plays twenty different well known melodies and also six songs to sing along to. One of the first things kids do is respond to music so this toy will go down a treat with a little tot.
You can Click and Collect the VTech Tea Party Set from your local Tesco store for FREE or pay £3 to have it delivered to your front door.