VTech First Steps Baby Walker £17.99 (Was £24.99) @ Argos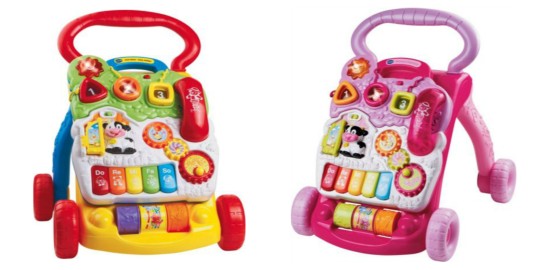 The VTech First Steps Baby Walker is reduced from £24.99 down to just £17.99 at Argos right now.
Aw, this baby toy takes me straight down Memory Lane - my lads had one of these when they were first getting to grips with walking, and they absolutely adored it. My eldest in particular used to clatter up and down our hallway at a rate of knots, all delighted with himself for being able to whizz about whilst upright!
All the colourful, interactive fiddly bits on the front keep inquisitive little fingers entertained for ages too, and ours used to detach from the walker (though I'm not 100% sure whether that's still the case) which meant you could store the walking part once it was no longer needed, but the toy remained of interest for AGES after that. As I recall it's also east to assemble and packs down fairly compactly for easy storage. And of course the resale value of these is great if you decide to pass it on once yours is outgrown.
The VTech First Steps Baby Walker is available from Argos in two different designs at this price - this brightly-coloured rainbow version and this pink option.
With thanks to HPC @HUKD.